SinOne 90nm eFlash MCU SC95Fxx6x Series Products Starting Mass Production
Release time:2022-03-09
"Chip Shortage" has become the theme of the entire semi-conductor industry in 2021. According to the report from the industry body, the delivery record of various chips in 2021 has been broken constantly, among of which the delivery cycle of Power Management Chip (PMIC) and Microcontroller (MCU) even exceeded 30 to 40 weeks. Most MCU products adopt mature process (350nm-55nm) with 8-bit MCU of 180nm - 110nm, all of which are mainly produced in 8-inch fab. With the technology updating and upgrading, there is almost no newly added capacity in 8-inch fab, domestic Fabless MCU manufacturers have to focus on 12-inch fabs to cope with the shortage of capacity.
When there was a shortage of production capacity in the industry at the end of 2020, SinOne has realized that it is necessary to start the research and development of 12-inch products as soon as possible, and has completed the tape-out of the first product in just a few months. The product was produced by the 12-inch 90nm eFlash process platform from Hua Hong Semiconductor Limited, which is the world's leading characteristic process pure-play foundry.
SinOne's first 12-inch product has multiplied in production capacity, which can meet the needs of more customers. At the same time, on the basis of maintaining high performance and high quality of original 8-inch SC95Fx61x, the product has been updated and upgraded according to the needs of the rapid development of the Internet of Things. The product has a total of two versions, namely 128KB ROM/8KB RAM SC95Fx76x series and 64KB ROM/8KB RAM SC95Fx61xB series, which can be derived into 40 product models according to different packaging modes and application types. Featuring full series of industry-grade MCU standards, wide voltage and operating temperature range, low EMI, high-speed 1T 8051 core, its operating speed is 24 times of that of traditional 8051. Besides, 32MHz high-speed frequency can achieve complex functions and business control logic.
The product Roadmap is shown as follows: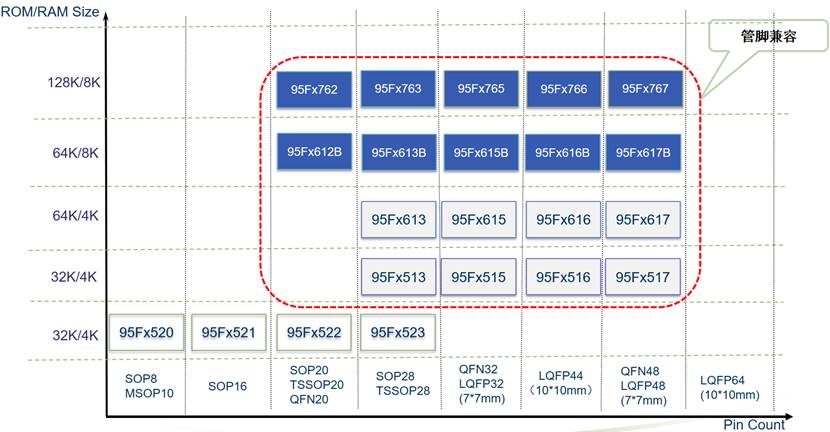 All SC95Fx76x/SC95Fx61xB series is compatible with SC95Fxx1x series and has been greatly upgraded with respect to peripheral resources and chip performance. Relying on rich industry experience of the R & D team, SinOne has constantly improved the anti-interference capability of the products. The ESD/EFT capability of the entire series has reached the highest level, and the anti-spark performance of heat products is outstanding; the fast development of the Internet of Things has brought the rapid update of electronic products. Traditional electronic products require for cloud connection and system upgrade. In terms of chip resources, SinOne has expanded the size of ROM to 128KB and of RAM to 8KB. Meanwhile, the hardware BootLoader is supported to realize remote OTA upgrade; in order to meet the needs of Internet of Things interconnection, the products have been upgraded from 3 sets of composite serial port USCI (SPI/IIC/UART) to 6, with the ability to connect a variety of devices and to access to various wireless modules, sensors and multi-device and multi-machine linkage; on the basis of original 8-channel enhanced PWM (complementary dead-time insertion, supported center alignment, brake function), another three groups of basic function PWM with independent period are added to satisfy the PWM application scenarios of multiple periods.
SC95Fx76x/SC95Fx61xB series products are equipped with high-sensitivity touchkey circuit supporting up to 31 touchkeys, which can realize buttons, wheel/slider, proximity sensing, water level detection and other applications with high reliability and anti-interference capability and have passed 10V dynamic CS test. Meanwhile, the product also supports low power mode, which can be less than 10uA in 12KEY@3.3V.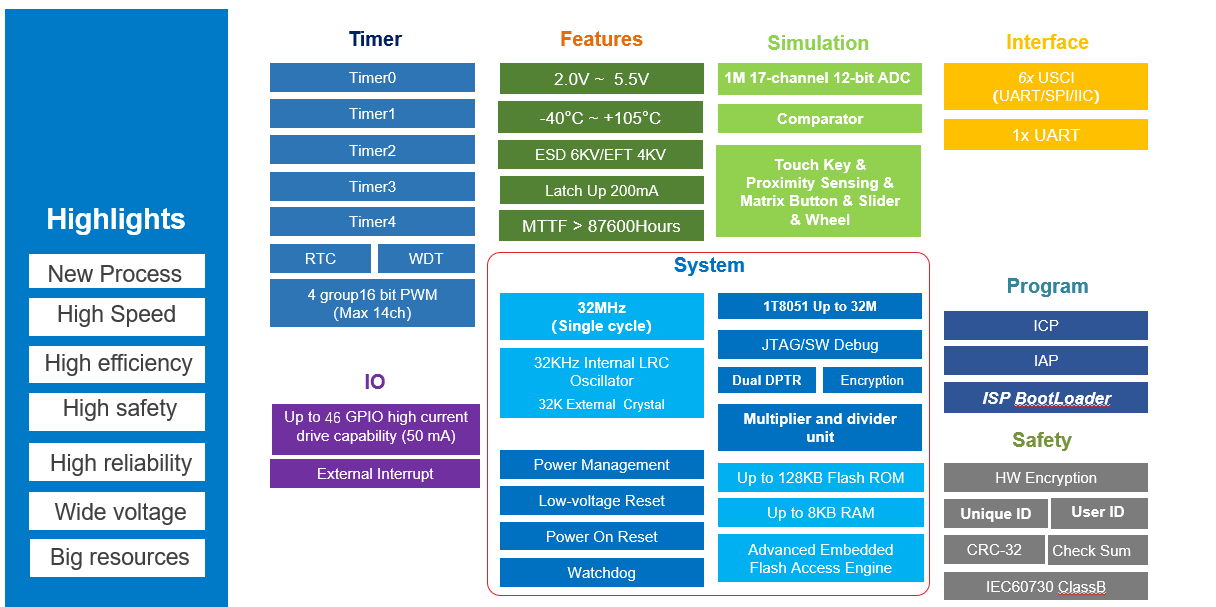 Samples of SC95F861xB series are now available, including LQFP32, LQFP44, LQFP48, and those in other packaging modes and models are coming soon. For application issues on samples, please feel free to contact SinOne business team.