Applications
Electric Tools
Introduction:

Cordless electric tools are required to be lightweight, safe, convenient and of low pressure. SinOne's extensive product portfolio has provided the most suitable innovative solutions.
Scheme Features:
ØOvervoltage/undervoltage protection
ØOver-temperature protection
ØOvercurrent locked-rotor protection
ØBattery temperature detection
ØBattery indicator
ØFault indicator
ØHigh/low level switching
ØForward/reverse switching
ØStop at zero torque upon reverse
Key Features:
ØSC95F7615B high-speed and efficient 8051
Ø32MHz basic frequency
Ø12-ch16Bit PWM;
Ø9-ch 12Bit SAR ADC
Ø4 comparators
Ø1 UART and 4 USCIs
ØHardware CRC
ØOperating voltage range: 2.0V - 5.5V
ØSatisfied IEC60730 CLASS B standard

SinOne electric tools solution adopts SC761xB high-speed MCU, featuring electric motor control, battery overcurrent protection, over-temperature protection, overvoltage/undervoltage protection and fault warning, etc.
Applicable Models:
ØSC95F776X/SC95F761XB/SC95F752X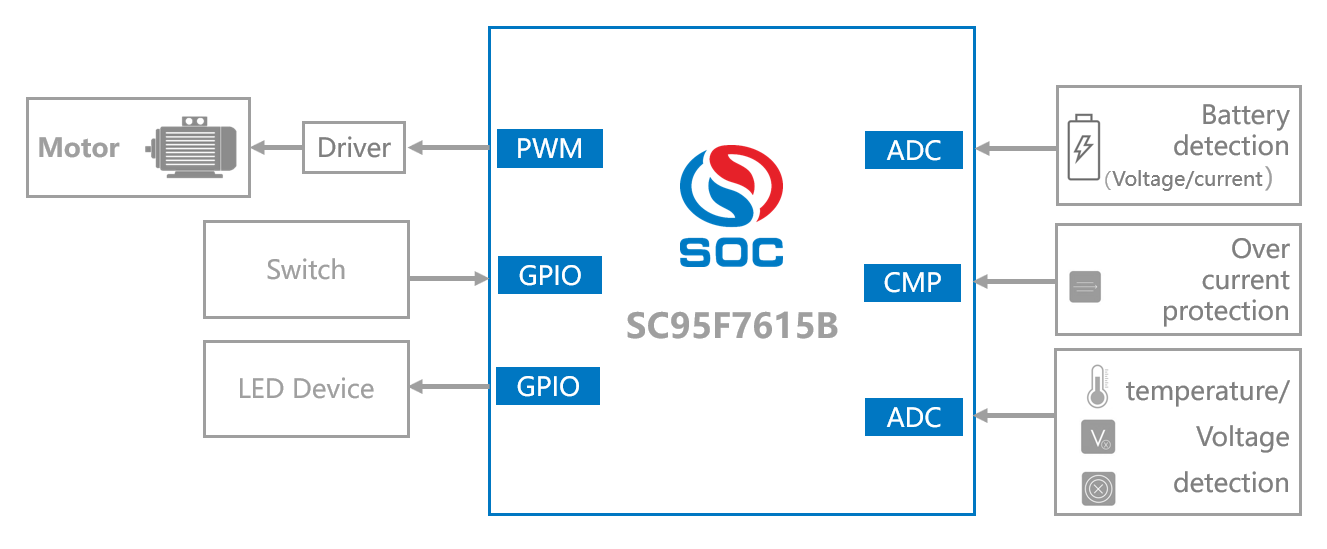 Applicable Part Number
Add to compare
Compare(0)

export

P/N
PKG Type

ROM
(Byte)
RAM
(Byte)
IAP
(100K times)
BootLoader

Voltage
(V)
2%IRC MHz
(32K Autocorrection)
ADC

PWM
(with dead-time insertion)
UART

USCI
(UART/SPI/IIC)
LCD/LED Driver

CMP

SC95F7615B
LQFP32/QFN32
64K
8K
0/1/2/64K
Built-in0/1/2/4K
2.0~5.5V
32/16/8/4
12bit*9ch
16bit*12ch
1
4
4*16
Y
SC95F7523
SOP28/TSSOP28
32K
4K
0/1/2/32K
Built-in1K
2.0~5.5V
32/16/8/4  24/12/6/3
12bit*11ch
16bit*8ch
1
3
-
-
SC95F7766
LQFP44
128K
8K
0/1/2/128K
Built-in0/1/2/4K
2.0~5.5V
32/16/8/4
12bit*17ch
16bit*12ch
1
5
8*24/6*26/5*27/4*28
Y